Taking care of children for over 30 years
What Our Patients Say About Us
We have been going to the practice since 2012. We could not be happier. They always get us in if we need an appointment. I have recommended this practice to anyone looking for a new pediatricians office!!
Malicah Jjulius
2023-02-17
I have been coming for years and it has always been a good experience they have really good pediatricians and they have great attitudes. Great place to come
My experience with the front desk staff has always been pleasant. Keep up the good work
Jose-Yennifer Hernandez
2023-02-17
My kids absolutely loved this practice. I was frantic dealing with a sick baby and the front desk staff was absolutely amazing. I had called a few offices and no one could take me. Luckily a young lady, I believe her name was Emlisa was very patient with me, did not rush me off the phone, she was able to get my baby in to see a doctor. As a new patient I can tell you that the office was clean, the doctors were thorough and explained everything in layman terms to my husband and I. I would definitely recommend them any time.
My daughter and son has been going to White Oak pediatrics for a couple years now and I must say I love all the doctors there. They are very professional, every time my kids need an appointment they're always very accommodating. The front desk, young lady by the name of Emelisa is always so nice and sweet and get the job done! She's my favorite front desk girl, she's awesome!
Esmeralda Simons
2023-02-17
Everytime I call or come in to the office I always hope that Ms. Betty is there. She's the light to the front desk so helpful and nice. Thank you Ms. Betty for making my experience so nice.
Very good and its funny when they put on a vaccine
Amanda Scanlon
2022-01-28
My mom used to bring my younger siblings to this office they have already out grown the office but my mom loved it and I loved it when I would accompany her … NoW for almost 16 years I been bring my kids here they are wonderful practice also caring helpful and compassionate for all my kids….. thank you for being the best pediatricians ever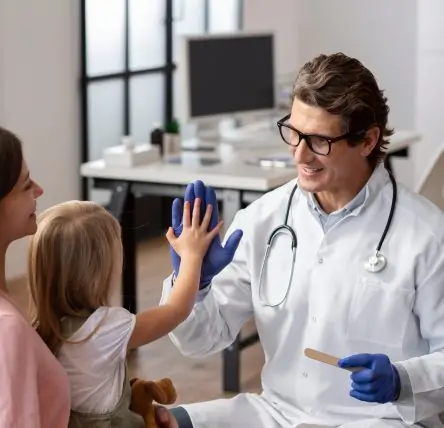 Our Silver Spring Office is a designated Travel Vaccine Center by the State of Maryland
Don't delay care for you and those you love